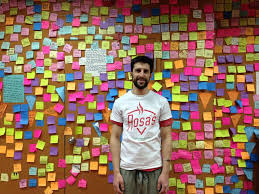 Mason Wartman was 25 when he left what he calls "the best job I ever had."
It has been over three years since he left Wall Street to start his $1-a-slice pizzeria. Hartman, who owns a pizza restaurant in Philadelphia Pennsylvania, came up with an amazing way of helping homeless people, by accident.
The message wall at Rosa's started 
a few months after he opened in December 2013. "A customer read that we serve a lot of homeless people, 
and he asked if he could buy a slice for the next one who came in," he said. "I took his dollar, wrote a post it note to remind myself there was a slice outstanding, and stuck it on the wall."
Now, it's apparently easy to be hypnotized by the hundreds of bright sticky notes on the walls of Rosa's fresh Pizza—
especially when you start reading them.
"You're worthy of more than a slice," an orange one says.
"Make pizza, not war," adds a yellow one. A sheet of white paper stands out:
"I just want to thank everyone that donated to Rosa's. It gave me a place to eat every day and the opportunity to get back on my feet. I start a new job tomorrow!"
Gulp!
Other diners followed suit, and within a week, two dozen post it notes were hanging up. When the number hit 500, Wartman started keeping track of the slices at the register, but the wall had already taken on a life of its own. Today, it's a communal board where people post notes of thanks given and received.
Wartman estimates that Rosa's has doled out more than 18,000 free slices in just over a year.
"Homeless customers offer to sweep up and take out the trash to thank me," he says. "I've hired three employees through homeless shelters. They're hard workers looking for a chance, and that's who I want here."
The young entrepreneur enjoyed nearly instantaneous success, making a large enough splash with his innovative business model — which earned him profits and provided pizza to those in need. He argues that all his ideas can be replicated by any business.
I find this so challenging.
But its so easy to do this. Imagine what could be done for others if every business had this kind of system in place?
Perhaps if you run a business of your own, you can pray about a way you can bless others through it?