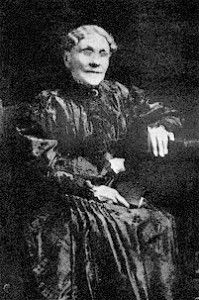 Frances Jane Crosby was born on March 24, 1820, in the village of Brewster about 50 miles north of New York City. She was the only child of John Crosby and his second wife, Mercy.
At six weeks old, Crosby caught a cold and developed a terribly painful inflammation of the eyes. Mustard poultices were applied to treat them. According to Crosby, this procedure damaged optic nerves and blinded her but modern doctors now think that she is most likely to have been born blind. In November of 1820, when Fanny was only six months old, John Crosby died, so she was raised by her mother and maternal grandmother, Eunice Paddock Crosby These women grounded Fanny in Protestant Christian principles, helping her, for example, memorize long passages from the Bible, and she became an active member of the a church in New York city.
In April 1825 Fanny was examined by a doctor by the name of Valentine Mott who concluded that her condition was inoperable and that her blindness was permanent.
At the age of eight, Fanny wrote her first poem, which described her condition. This began a life-long joy for her of writing. She penned many poems and songs and later went on to write hymns. Her faith at the time and later was incredible. In fact, she remarked:
"It seemed intended by the blessed providence of God that I should be blind all my life, and I thank him for the dispensation."
Can you imagine being able to say that?
It seemed that because of her blindness Fanny worked even harder with her memory. It is said that from the age of ten, she had memorized five chapters of the Bible each week, until by the age of fifteen. Fanny memorized all four gospels, the first 5 books of the Old Testament, the whole of Proverbs, Song of songs and many of the Psalms.
When asked about her blindness, Fanny said that, "had it not been for her affliction, she might not have so good an education or have so great an influence, and certainly not so fine a memory."
With the encouragement of her grandmother, a music teacher came twice a week to give her singing lessons. She went on to excel at music. At the age of 15 she was enrolled in the New York Institution for the Blind. She remained there for eight years as a student, and another two years as a graduate pupil. There she learned to play the piano, organ, harp, and guitar, and became a good soprano singer.
She said, "If perfect earthly sight were offered me tomorrow I would not accept it. I might not have sung hymns to the praise of God if I had been distracted by the beautiful and interesting things about me."
Fanny also once said, "When I get to heaven, the first face that shall ever gladden my sight will be that of my Savior."
In 1847 she was appointed teacher of English grammar, rhetoric, Roman and Greek history.
Her first volume of verse appeared in 1844, under the title "A Blind Girl and Other Poems." During the next thirty-two years she wrote further 9000 hymns songs and poems. She regularly used other names to disguise how prolific she was, worried that he work would not always be published otherwise.
Her style of writing was most unsual. She never wrote hymns or poems down as she went, but completed each one in her head and then dictated it. It was said that she could compose and remember 40 or more hymns at a time before putting them on paper.
Her hymns are characterized by simple, direct words. Among the most popular are, "Blessed Assurance," "Safe in the Arms of Jesus," and "Jesus Keep Me Near the Cross." Many people across the world still sing them today.
In 1858 Fanny married a man called Professor Alexander Van Alstyne, a talented teacher of music in New York, and, like herself, totally blind.
Fanny was politically active and was the first woman to speak in the United States Senate when she read a poem there. She also campaigned for the education of the blind.
While teaching at the Institute, she befriended future US president Grover Cleveland then aged 17. Grover and Fanny spent many hours together at the end of each day, and Grover often transcribed the poems she dictated to him.
Fanny had a kind heart. When there was a cholera epidemic in New York City, she remained behind to nurse the sick, rather than leaving the city.
She didn't just write hymns but also very popular parlour songs which were sung and performed all over America. She also wrote an opera and number of classical works.
In 1859, the Van Alstynes had one child, a daughter Frances, who died in her sleep soon after birth. Fanny rarely spoke of her loss but did once say, "Now I am going to tell you of something that only my closest friends know. I became a mother and knew a mother's love. God gave us a tender babe but the angels came down and took our infant up to God and to His throne."
Crosby and Van could have lived comfortably on their combined income, but Fanny "had other priorities and gave away anything that was not necessary to their daily survival. " She said, "from the time I received my first cheque for my poems, I made up my mind to open my hand wide to those who needed assistance". Throughout her life, Fanny was described as having "a horror of wealth", never set prices to speak, often refused payment and "what little she did accept, gave away almost as soon as she got it"
Fanny and her husband organized concerts, with half the proceeds given to aid the poor, in which she gave recitations of her poems and sang and Van Alstyne played various instruments.
It seems she did not have a happy marriage and her husband and her drifted apart and started to live in separation from one another.
This did not stop her working. She set herself the extraordinary goal of winning a million people to Christ through her hymns, and whenever she wrote a hymn she prayed it would bring women and men to Christ, and kept careful records of those reported to have been saved through her music.
Fanny's hymns were so popular because they placed "a heightened emphasis on religious experiences, emotions, and testimonies," something rare in the stern church music of the day.
In 1880, aged 60, Fanny "made a new commitment to Christ to serve the poor", more fully and to devote the rest of her life to home missionary work. She continued to live in a dismal flat near one of the worst slums in Manhattan, until about 1884.From this time she increased her involvement in various missions.
She was well known and often met with presidents, generals, and other dignitaries. According to one writer, "The popularity of Fanny Crosby's lyrics as well as her winsome personality catapulted her to fame".
When she died in 1915 at the age of 94, her family erected a tombstone which simply said, at her request, "Aunt Fanny: She hath done what she could."
Crosby left money in her will for "the sheltering of senior males who had no other place to live," and the Fanny Crosby Memorial Home was set up for the Aged. This home operated until 1996.
What an amazing legacy this woman has. Truly a wonderful unsung hero of mine!